If you are spending your holidays in Capri, the Mar Amar's Boat Tour of Capri and along the Sorrento Coast is the perfect boat tour for you.
Aboard our boats, you will live an amazing adventure with our skippers as experienced guides. They will guide you in the circumnavigation of the island to discover beaches, caves, uncontaminated nature, blue sea, and coastal views unique to the world.
Meeting at Marina Grande bay you will depart for the most panoramic places of Capri: Faraglioni rocks, Green Grotto, White Grotto, Bagni di Tiberio, Marina Piccola, Punta Carena Lighthouse, Villa di Curzio Malaparte and much more.
During our navigation, we will choose the most beautiful spots and the most famous bays to stop and offer you a dip in the water and some snorkeling to discover the Capri seabed.
The places we will visit during the boat tour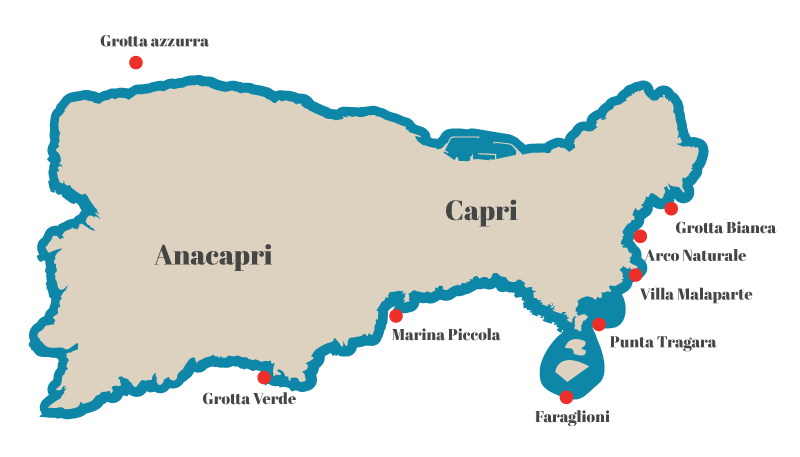 We will resume our navigation with a possible stop to Blue Grotto, the true symbol of Capri.
This Grotto will surprise you with its deep blue color that makes the atmosphere magical and completely clear the water.
Back on board - after some snacks and prosecco - we will set out to Sorrento Coast.
Here you will have the chance to dine in a typical seaside restaurant in the fishing village of Marina del Cantone, Nerano, where you will find the characteristics restaurants on the pier that serve fresh fish in thousand different recipes, and the signature dish of this place, the super famous "Spaghetti alla Nerano": spaghetti with fried zucchini, local cream cheese, and basil.
After lunch, we will have yet another swim in one of the most beautiful bay of Sorrento Coast and then we will head back to Capri, in the purplish colors of the famous Capri sunset, with the sun going down to the sea on the horizon and the fantastic Faraglioni rocks in the distance.
Each boat excursion by Mar Amar Boat is customizable according to your wishes: you decide the places you want to visit. Our skippers will accompany you with courtesy and professionalism to discover what we are sure will become some of your favorite places in the world.
Our services during excursion