Our shore excursion from Sorrento port is one of the most requested and desired by tourists coming from the entire world because it takes you to the "blue island", the beautiful Capri Island.
The Caesars and Roman emperors used to come here to spend their summer holidays - their "otium" - but since the 1960s it has become instead the Vip Island, given the many celebrities coming here from all over the world.
With this fantastic tour aboard one of the beautiful and comfortable Mar Amar boats, you will be able to explore Capri Island in all of its beauty.
A very comfortable touristic shuttle will wait for you at Sorrento port and, with a private transfer, you will reach the embarkation port, Marina di Stabia, to start this great Capri excursion.
After a short ride and sail in cobalt blue water, Capri will be right in front of you in all its majestic beauty.
Circumnavigating the Island, you will discover the most representatives coves, caves, and panoramas of this location: White Grotto, Green Grotto, Punta Carena Lighthouse, Anacapri with Villa San Michele, and all the most famous beach – Marina Grande, Bagni di Tiberio, Marina Piccola, and many more – mostly made of pebble, stone, and rocks where you can dive from.
The real symbol of Capri is represented by the Faraglioni: three spurs of rocks, which rise from blue water, very close to each other. Nearby the Faraglioni we will stop for a swim into the stunning water and to take some souvenir photos, memories of this special boat excursion from Sorrento port. The Faraglione di Mezzo (the middle one) is characterized by a central cavity, and it will be funny to pass through it with the boat, to admire its beauty closely.
The Blue Grotto, another of Capri's symbols, is a cave characterized by crystalline blue water. This can be visited only by request as the entrance is always very crowded and it requires a long wait and an additional cost.
The places we will visit during the shore excursion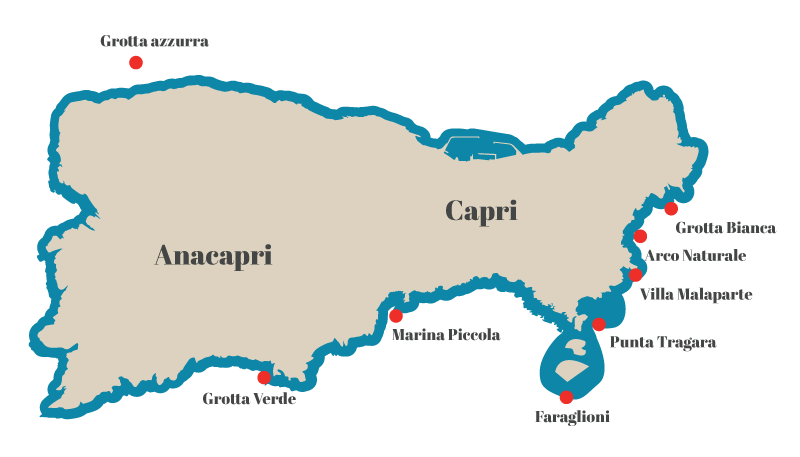 On request, it will also be possible to stop at Capri's island both to enjoy its natural beauty and its culinary sweetness. We highly recommended making a stop at the "Piazzetta" or, as they say in Neapolitan dialect "a chiazz", Piazza Umberto I that can be reached by a cable runway directly from Marina Grande. This is the worldly center of the island, where you can enjoy a good coffee or taste an ice – cream sitting at the bar, always full of celebrities.
Your skipper will pamper you during all the sailing with our on-board services: fresh fruits, snacks, beverages, Prosecco, and limoncello.
Our boat excursion from Sorrento port can also be customized with a stop to Positano, the Amalfi Coast pearl, to explore this unique city built into the rocks, and go for a dip in its sea.
Each shore excursion from Sorrento port can be customized according to your wishes. You can decide which places you want to visit and a professional Mar Amar Boat skipper will kindly guide you into the discovery of your places of the heart.
Our services during excursion