Mar Amar Boat proposes a special shore excursion to explore the stunning Amalfi coast, departing from Salerno port.
A very comfortable and convenient tourism car will wait for you at Salerno port and with a private transfer, you will reach the port of departure for this fantastic shore excursion, Marina di Stabia.
There you will find, waiting for you, an experienced skipper who speaks English perfectly. He will start to introduce you to the great experience you are going to live on this boat tour, that will lead you to the discovery of one the most amazing coast of the world, the Amalfi Coast, called for this reason "The Divine Coast". You will focus on its most famous and beautiful gems: Amalfi and Positano.
During the navigation you will discover fascinating places and the hidden coves, only reachable through the sea and very often connected to the road above thanks to steep rocky stairway, once used by fishermen and pastors; you will also discover strange shaped rocky spurs and refrigerant little falls.
You will have the chance to admire il Fiordo di Furore, a very narrow inlet into the mountains that divides the amalfitan highway, whose extremities are connected thanks to a 30 meters high bridge. You will then also see Praiano, Minori, and Maiori with all their colorful little houses.
Your skipper will choose for you the most paradisiac corner where you can dive, and he will take care of you during all the sailing with our on-board services: fresh fruits, snacks, beverages, prosecco and limoncello.
The places we will visit during the shore excursion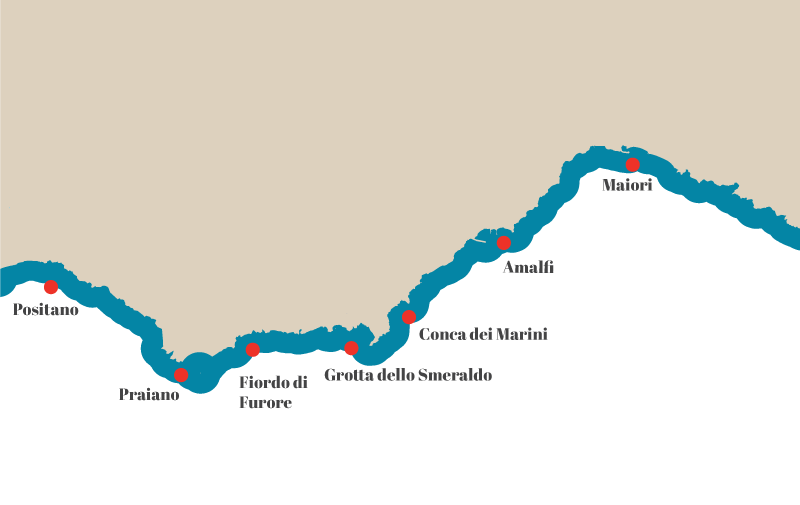 Once you reach the Amalfi Coast's most wonderful locations, you will be able to continue your Amalfi Coast boat tour from Salerno port by visiting these amazing places, unique for the morphology of the area.
In Positano, the Vip's town, you will be fascinated by the intricate maze of alleys and stairways that have had their place carved out during the centuries by the Positano's people. Along these roads, you will find many local craft shops, colorful ceramics, fresh cotton and linen clothes from the popular "Positano Beachwear"' and woven leather sandals decorated with Swarovski stones and marine items, all typical products from this area.
When in Amalfi, it is a must to visit the Duomo di Sant'Andrea, which dominates the whole city from above with its sixty-two steps. Its façade, mainly Arab-Norman Romanesque architectural style, has been restructured many times and Romanesque, Byzantine, Gothic, and Baroque elements have been added to it, making the Duomo unique in the world.
In the coastal town you will also taste lemon flavored sweets and ice-cream, which here have a very special flavor thanks to the main ingredient, the "Sfusato Amalfitano" lemons
At sunset, with the breeze of the sea refreshing your sunbathed skin after this wonderful day spent in the Amalfi Coast we will head back to the departure port in Marina di Stabia. Here you will find a private transfer to Salerno port. From there you can continue your fantastic journey in the discovery of the Italian beauties.
Each shore excursion from Salerno port can be customized according to your wishes. You can decide which places you want to visit and a professional Mar Amar Boat skipper will kindly guide you to discover your places of the heart.
Our services during excursion