The most famous boat tour from Sorrento

Our boat trip to Capri, Anacapri and Sorrento Coast from Sorrento is the best way to visit this beautiful island, the most famous of the islands of the Gulf of Naples and the coast of Sorrento sung by poets and musicians of all ages.
Our tour by boat in Capri, the tour most requested by our customers, will take you to discover the Blue Island, the pearl of Flegrea, famous in the world and destination for thousands of tourists every year.
Capri tells the story of tourism in the Gulf of Naples because the ancient Romans had already made it their holiday home and in fact on the island there are vestiges and remains of the glories of the past, the imperial villas that had their nymphs in the caves of jagged coast.
The places we will visit during the tour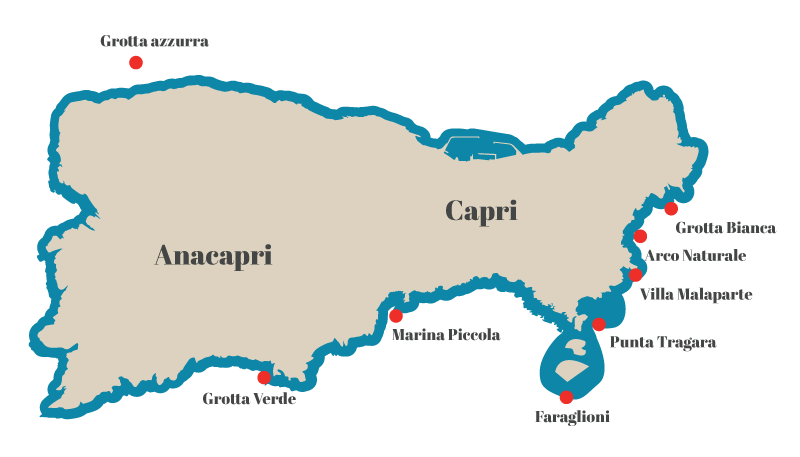 During the tour in Capri you can admire natural landscapes of incredible beauty like the famous Faraglioni, the three rocky peaks emblem of the beautiful island that make it recognizable in the world; the natural arch and the famous caves: the Grotta Azzurra, the Grotta Bianca and the Grotta Verde which take their name from the beautiful colors that the sun makes reflecting its rays on the water after being deviated from the inclination of the entrance of the ravines or sometimes filtering from underwater fissures.
From the sea you can also admire famous places such as the villa of Curzio Malaparte, considered one of the masterpieces of modern architecture and the Lighthouse of Punta Carena.
Our boat trip to Capri with departure from Sorrento also includes a stop for a visit on foot of the island during which you can admire VIP places like: - the beautiful Piazzetta of Capri, also called "living room of the world" center of life worldly island where you can sip a coffee sitting at the table next to Beyoncè or Mariah Carey who are at home here, the Gardens of Augustus, the Via Krupp, Anacapri with the chairlift to Mount Solaro, the highest point of the island and much more.
The boat tour to Capri ends directly in the port of embarkation where one of our transfers will take you back to the hotel.
The detail of the tour of the Island of Capri by boat
On board one of our luxurious, comfortable and fast boats, you will have the opportunity to spend an unforgettable day on an excursion to discover the fantastic island of Capri.
During the boat tour in Capri we will discover the following fantastic places:
I Faraglioni
Marina Piccola
La Grotta Azzurra (optional visit upon payment of the entrance ticket)
La Grotta Verde
La Grotta Bianca
La Grotta Meravigliosa
Punta Tragara
L' Arco Naturale
La Villa di Curzio Malaparte
On board you will be offered Italian sparkling wine, snacks, typical sweets, drinks, limoncello and then lots of music and guaranteed fun.
Our services during excursion